If your struggling, here is how this book can help you…Right Now!!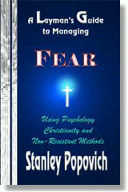 This book has over 100 techniques you can use

which increases your chances of finding the answers to your problems.
This book is only 65 pages long. 

A great time saver for your busy schedule!

Read the book reviews on this websi

t

e

 from others who got instant relief from Stan's book.

Would you rather pay $7.50 that fixes your problems right now or continue to struggle

and suffer with anxiety every day? It's your choice!
You can Order from Paypal by Clicking on "Buy Now" Below and Get This Book Right Away!
How to Download Your E-Book After Using Paypal
After paying through PayPal, a "Thank You" page will show up on your computer screen.
Click the link that enables you to download Stan's book (PDF File) to your computer.
If done correctly, you will have saved Stan's eBook on your computer in only a few seconds.
If you have any trouble, contact Stan at stanpop822@gmail.com right away and he will send you an extra copy at no extra charge!
What Readers Say
"A Layman's Guide to Managing Fear" is a great self-help book. I have been a Counselor for many years now and I use some of the same suggestions and tactics in my practice and you didn't have to pay $55.00 or more an hour to hear them! – Mark Myers
A very good book for anyone who has trouble managing fear. It is very easy to understand and as mentioned in a previous post you don't need to pay out astronomical amounts on seeing a counselor. Well worth every penny. – Andy Kingston
Good information on managing fear, numerous methods and techniques described. Written in a format that is easy for people to comprehend. Excellent resource section. Would certainly share with clients. I liked it. – Ann Globenskyon Kingston