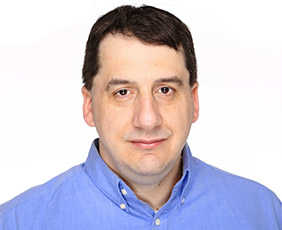 Stan Popovich is a Penn State graduate and the nationally known author of "A Layman's Guide to Managing Fear"— an easy-to-read book that's helped thousands of people to confidently manage their persistent fears and anxieties.
Stan's articles have appeared in a number of national publications. Stan is an award-winning and respected contributor on the topics of managing fear and the consequences.
---
This life-changing book was inspired by his own

20+ year struggle with anxiety and fear

.
Stan has been featured on many TV and Radio Programs around the U.S.
Stan writes for many national publications such as The Huffington Post and Entrepreneur Magazine.
His book has accumulated more than

400 positive book reviews on Amazon, 

m

any from professional counselors who use the Guide to help their clients.
Stan's expertise has brought him thousands of fans on Facebook, Twitter, YouTube, and LinkedIn.
Stan has interviewed various mental health counselors whose insights are included in this book.
This book was read, reviewed, and accepted by various professionals before it was published, however Stan is a layman and his book is not a substitute for the guidance of a professional.
Do an internet search for "Stanley Popovich" or "Stan Popovich" to see his latest contributions.
What The Professional Counselors Have To Say:
This book is directed to the common person and is very basic but extremely helpful. The book is divided into sections that address different approaches from general counseling techniques, asking God's help (Spirituality), as well as non-resistant methods that are very helpful. As a therapist I would recommend this book to my clients who experience anxiety. – Vinnie Fabber, LPC, NBCC
This is an easy, quick read for the average lay person or professional. I would recommend this guide to anyone in the helping profession or anyone that struggles with fear and anxiety. The author uses various examples to help people understand how to process and face their fears. The end result is a more balanced and realistic view of reality. A very helpful resource that I would recommend to my clients! – Andrea McCartney
I'm always looking for help for my clients that is written in terms that they can understand. This little book does just that. Take it with you to your therapist & discuss it with them as basis for moving forward. – Hilary MacKenzie
I am a Licensed Therapist who works with clients dealing with anxiety. This is a short, but strongly informational read that doesn't contain a lot of the "fluff" that most books have just to fill pages. It provides real world applications and examples regarding anxiety and fear. I appreciate Stanley Popovich's straightforward approach. – Janet Gibson